Nytech ND-4020
This review and in-depth description was created 2004 - 2007. The latest update was done in July 2015. See update history for more details.
See some photos shot with Nytech ND-4020!
Nytech ND-4020 was my first digital camera. I purchased it June 2004 and used it very actively for three months. During that time I shot about 5 000 photos with it. The enthusiasm of photography spread like a fire and so the camera got replaced with more advanced equipment. Nytech ND-4020 then served me as a secondary camera and was finally sold to a colleague at autumn 2005 for 40 euros.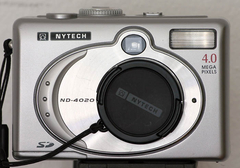 There seemed to be very little information available on Nytech ND-4020 so I decided to construct this page. Please be aware that the following review and description is based on my personal findings, on the information found on the internet and on emails that have been sent to me around the Europe by Nytech users. I'm neither a pro photographer nor a true expert on digital cameras. Although I've tried to be objective it is very possible that the following review contains subjective opinions, false assumptions and even errors.
I hereby would like to thank the readers of this review of mailing me more information on the camera. Many technical details given in this review were provided by Michel from the Netherlands. Graham from Spain has provided me firmware info. I have also received substantial input from Portugal. Thank you all!
General
I must admit that I wasn't expecting much when I bought this cheap non-brand-name camera from Lidl supermarket. I still felt that buying a cheap digital camera would be a wise solution for me. I could use it to learn how to shoot with digital camera and what are the rules of the digital world. Later I could replace it with something more advanced. Nytech ND-4020 satisfied these needs just fine and matched well the price. Lidl gave three year warranty for the camera and that helped to push me to buying it.
According to my sources the camera is manufactured by Premier Image Technology Corporation, Taiwan, not by Konica as I used to suggest. The camera is sold under various names like Praktica, Vivitar, Trust, Magnex, Konica Revio KD-4000, Gateway DC-M42 and of course Nytech ND-4020. At the time of the purchase I didn't know that the camera had been tested inside out in German ASIG and it was ranked "good".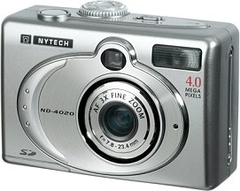 The price for this 4 megapixels digital still camera with 3-times optical zoom was 199 euros at June 2004 at Lidl supermarket. The price included 64 MB sD-card, two pairs of rechargeable batteries, slow charger for one rechargeable battery pair, mains adapter, light carrying case, USB-cable, video cable, software CD-ROM and an easily-approachable user's manual in various languages. At the time of the purchase the price was outstanding. During the summer 2004 and later on the prices have dropped a lot.
It is true that the consumers that know little about digicams think that megapixels are the main fact that counts. To answer to the consumer's expectations Nytech started to offer a 5 megapixel version of the camera and has now set it to 6 megapixels. According to my sources these new models have also more mature firmware. Many of the nasty firmware features described later in this review don't not exists in the latest 5 these megapixel and 6 megapixel versions.
Technical details
The technical details of Nytech ND-4020 are quite typical to a pocket-size 4 megapixel digital still camera. Here are the main details:
CCD resolution: 4,0 megapixels

Picture resolution: 2272×1704 pixels, 1600×1200 pixels, 1280×960 pixels, 640×480 pixels, 320×240 pixels (video).

JPEG quality modes: fine, normal, economy

Internal memory: 11 MB internal

External memory: max. 256 MB sD Video capacity: MPEG with audio, max. 3 minutes per a sequence

LCD display: 1,6" color-TFT, 320×240 pixels

Optical view finder

Lens: Japanese brand, 7 elements in 6 groups

Optical zoom: 3x, 7.8 - 23.4 mm, seven steps, equivalent to 35 - 105 mm on 35 mm cameras

Digital zoom: 2x/3x/4x (preview), 2x/3x/4x/6x (playback)

Autofocus modes: auto (40 cm - infinity), macro (20 - 70 cm)

No manual focus (some incorrect tech specs claimed that manual focusing is possible)

Exposure control: auto (exposure compensation +/- 2,0 EV in 0,5 EV steps), manual

White balance: auto, fixed (5 modes)

Shutter speed: 1/2 s - 1/250 s (auto), 1/5 s - 1/1000 s (manual - flash off)

ISO 100, 200, 400

Color modes: standard, monochrome, sepia

10 seconds self-timer

Flash distance 0.5m - 2.5m, red eye reduction

Interfaces: DC, USB, PAL / NTSC-Video

Power supply DC: 3V / 2,5A

Measurement: 95 mm x 36 mm x 64 mm

Weight: 180 g
My camera is running on firmware version 1.47.15 1.00 so this review is based on it. Other known firmware versions are
4020-1.37.12 (2003-09-10)

4020-1.38.12 (2003-09-17)

4020-1.40.15 1.03 (2003-11-03)

4020-1.52.15 1.00v1 (2005-01-10)

4020-1.52.15 1.00v2 (2005-02-22)

4020-1.52.15 1.00v3 (2005-07-18)
I have received the information that under the hood the camera consists of following chips:
Amitron AT1452BP (flash charger)

Sharp LR38624 (timing generator for CCD)

RJ21R3AA0PT (4 megapixel CCD)

Amtel AT76C113H (ARM7TDMI controller)

Samsung K9F2808UDC (16MB x 8bit NAND flash)
The firmware has an exotic feature called "fixed ratio compression". The camera uses a standard JPEG format and as known the compression ratio of a JPEG image is always depended on the image contents. An image with less detail is smaller than an image with lots of detail. When Nytech claimed in the manual that they have now discovered a "fixed ratio compression" for JPEG images it was obvious that it is bogus. After some deeper examination I noticed that the "fixed ratio compression" is implemented so that the firmware writes junk to the end of the file to make each file generated to be equal size. Actually it seems that this is a firmware design or implementation error and has been named to "fixed ratio compression". The only impact of the weird feature described is that the space on the card gets wasted. The junk uses typically from 30 to 50 percent of the space on the card. The junk can be removed using a computer and a software that has a lossless JPG rotation. Just rotate the image by 180 degrees, the rotate it again by 180 degrees and you get the original image without the junk. This procedure cuts a 1458 kB file down to 350-1250 kBs (typical) and the image is identical to the original one but the junk is gone. Nytech's tech support said that there is no firmware update to fix this issue in ND-4020.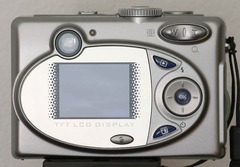 To get deeper into the file size problem it seems that the firmware always dumps the whole image processing memory block to the file. For example when you shoot using the maximum resolution & minimum compression the resulting file size is always not less than 1458 kBs. I think that a regular user could not care less of this feature but for me it felt like a pain. I have received interesting information that the image processing memory block consists of three images and some leftover memory. The first image is the final image, the second and the third are used for measurement. If you take a photo with flash, you can see that the camera gives two short preflashes before the main flash. The second image is from the first preflash and the third image from the second preflash. The img_jpeg_io.c routine allocated a fixed file size and then writes these three images to the file. The end of the file is never written and it contains old data that was earlier on the card. This routine is changed in the firmware for the 5 megapixel DC-5832 but not for ND-5020. In DC-5832 the firmware only saves the main image with the correct file size. It is said that a modified DC-5832 firmware can be installed into ND-5020 and this is reported to fix the junk problem, give better picture quality, better auto focus accuracy and better results exposure-wise. This modified firmware for ND-5020 seems to be downloadable at http://www.de-groot.tweakdsl.nl/, direct link to the file is http://www.de-groot.tweakdsl.nl/files/ND-5020-1_07_05.zip.
Another not-so-nice feature is that the real time clock seems to run too slow. This happens often but not on every shooting session. The tech support advised me to send the camera for service. I decided not to send since the service center is located at Germany and so the service would take at least two weeks. I also assumed that this is a design flaw and the camera is not actually broken.
Hands on!
When holding the camera in hand and looking it critically I must say that it looks neat and stylish. Someone wrote on some discussion forum that the camera looks very plastic and cheap but I don't agree. Maybe the main reason for his dissatisfaction was the fact that the Nytech brand is not generally recognized? Yes, the body IS made of plastic so if you expected your camera to be the coolest one on the market with a shimmering metal body then don't by this one. The body seems to get small fractures quite easily and you might want to carry it inside the included carrying case to keep the camera in best possible condition. The lens cap is - well, a cap.
The size of the camera is sufficiently small to be handy and to fit into men's pocket. But compared to the current lineup of brand-name pocket digicam's the Nytech is much larger. The camera has a standard monopod/tripod at the bottom of the body. The mounting screw is made of plastic which worries me a little. But still looks almost like a new after about 100 attachments/deattachments.
The optical zoom has 7 steps and reacts fast. It is typical to cameras of this class that the optical zoom has steps instead of being fully linear. Still, I think they should mention it in the tech spec. In addition to the optical zoom the camera has also 4 times digital zoom for those who like it.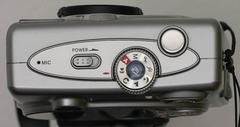 The programs are selected using a wheel and there are programs for full automatic action, for shooting objects very close to the camera (=macro), for shooting in low light conditions, for shooting fast moving targets and more. The camera has also a fully manual mode where shutter speed and/or aperture value can be controlled manually. The exposure can be compensated 2 units up and down. You can also control variables like the depth of color and sharpness. I feel that using the camera is rather easy and straight-forward. Normally turn the wheel and if you need something special, just browse the menus. The buttons to browse the menus leave a feeling that sometimes they react to your pushes, sometimes they don't.
Nytech ND-4020's LCD screen looks very typical - nothing special here. It is smaller than in the latest pocket-size miracles. As always the LCD becomes unreadable in straight sunlight but you then you have the optical viewfinder to use. As in every small camera the flash has a narrow angle and short range.
The delays of the camera seem to be longish and I think that here the more expensive competitors perform better. This camera is not suitable for shooting fast actions shots. The shooting delay seems to be long mostly because of the delay in the autofocus procedure. You can make this delay shorter by pressing the trigger half way down before the actual shooting takes place. And at the point of the shoot just press the trigger fully down. There is then a delay when the photo is written to the card and it depends of the image size. The delay is longest when shooting using the maximum resolution. BTW, the camera can record MPG video clips with audio and it can be connected to TV for photo/video preview using the included video cable (RCA video in, RCA audio in). I have read reports that indicate that the audio of video clips is easily overdriven and distortion results.
Nytech ND-4020 uses Secure Digital (sD) cards as its storage media. According to the manual it accepts cards up to 256 MBs. The controller chip should be able to use cards up to 512 MBs, but I have not tested that. A larger card means that you might lose a large amount of photos in case of a card malfunction or in a case of card loss. I suppose you are not laughing when you realize that your 300 great holiday photos are gone for ever with the wind (or with the card). The included 64 MB card can store 40+ photos on best resolution & lowest compression. I addition to that I have used a 128 MB card. It can take 80+ photos. The camera also has an internal 11 MB memory to store photos. I first thought that there is no real use for it but I soon found out that it is very useful when you already have all cards full and something nice to shoot comes up. In this situation the internal memory offers some relief.
The firmware has a nasty habit to crash. During my 5 000 photos long Nytech-era I faced approximately 30 crashes or infinite loops also some other firmware/hardware based oddities. In these situations it was often required to do a full reset by removing the batteries. At least once a firmware failure corrupted some photos on the card but I was able to recover them using a card reader and free recovery software downloaded from the net. Another crash deleted all the files from the card but it happened assumably because the memory card (128 MB SanDisk, did not came with the camera) malfunctioned. I replaced the card (it was a warranty issue) and the situation never occurred again. The camera talks with computer via USB and the data transfers to computer without problems. The camera also has the ability for direct printing without a computer but I haven't tested that.
I managed to get my hands on the user's manual of Nytech ND-3200 which is the predecessor of this ND-4020 model. The manual could be found in the net as a PDF file. Nytech ND-4020 seems to miss many of the features that existed on Nytech ND-3200. First this sounded very strange: why do they take away the features, I think they should only add them! The previous model had for example exposure bracketing, different exposure weighting patterns and long exposure times for night shots. Nytech ND-4020 doesn't have any of these. The best explanation to this negative development is that Nytech ND-3200 was manufactured by Toshiba and Nytech ND-4020 by a different vendor. So the differences in the cameras and in their firmware exist because the cameras are from different manufacturers and the only thing common in them is that they are both labeled as Nytech.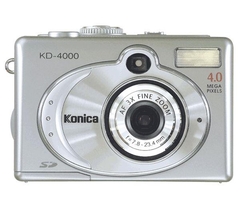 It is typical that the batteries of the digicams are suck dry quickly. As in other digicams in Nytech ND-4020 the lifetime of the batteries is generally constrained by the use of flash, LCD screen, optical zoom and shutting down / restarting the camera. The camera uses AA-sized rechargeable batteries (2 cells at a time, 4 cells included) or alkaline batteries. The capacity of the rechargeable batteries included is 2000 mAh. They do sell even larger capacity ones today. According to my studies a pair of these included fully charged batteries last from 30 shots to 150 shots. The amount of photos shot is not a highly significant factor in battery life. I have read about Sony's rather new model (summer 2004) that sucks the batteries dry in just 20 photos when the flash is on. Compared to this the power consumption of Nytech Nd-4020 is tolerable.
The latest firmware version (2005-07-18) downloadable from Targa's website should increase battery life by fixing the following issues: the battery level is quickly displayed as "battery empty", camera turns off after a few photos and the battery level is not displayed correctly. In addition it must be noted here that I have received an email that speculated on the possibility that the camera might be designed to use 1.5 volt non-rechargeable dry batteries and so 1.2 volt rechargeable cells don't provide a voltage high enough to the camera's needs and this leads to rather short battery life. Maybe the firmware update has something to do with this?
The charger included seems to be a slow charger. I already had a pile of AA cells and a discharging quick charger for 4 cells before I purchased the camera so the battery life was not high on my list of concerns. The camera can also be used using the included mains adapter.
The image quality
See some photos shot with Nytech ND-4020!
I have shot 5 000 photos with Nytech ND-4020 and I have managed to get a feeling that the quality of the photos is typical to pocket-size digicams. The quality is not outstanding. The best expression to describe it is "quite nice" when you are shooting in good light. When analyzing the quality of the photos more we must keep in mind that this camera is very cheap. The image quality must be considered good when shooting outdoor in good lighting conditions. At indoors I would give only "tolerable" due to auto focus problems described later. I did almost all my shooting outdoors. At most situations cloudy white balance setting worked best. Using automatic white balance seemed to result in blue photos outdoors. The sensor had about four hot pixels (pixels that are always white). They appeared only in the darkest photos when shooting with ISO 400 and they could be easily removed by any decent photo editing software.
Trying to keep this short but still worth of mentioning here: it is a hard fact that the quality of the photos shot with cheap digicam is largely depended on external issues like the amount of light. It is easiest to achieve great results outdoors on bright cloudy day. You seldom get great results indoors in low light conditions. Accept this. If possible, add more light. One most dominant thing that spoils the photos shots in low light conditions is that the photographer is unable to hold the camera steady during the exposure. This happens very easily when using the maximum zoom. People tend to blame the camera and say that its optics gives blurred results or the autofocus did not focus correctly. This is often an incorrect assumption. The risk of camera shake is always there when the light level drops. The problem can be best avoided by using a monopod or a tripod. I used both with Nytech. Assuming that the camera shake is not an issue we then get to the optics. Of course optics of these cheap digicams do add some blurring to the image when shot at low light. This is because the camera uses largest aperture possible and a cheap lenses do not work well when used wide open. The optics also add some barrel distortion to the image.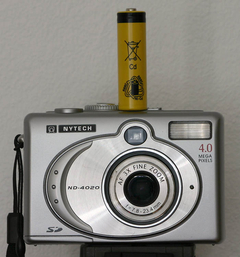 There is noise in Nytech ND-4020 sensor - just as I expected. Cheap four megapixel sensors do have noise issues. And typically cheap five and six megapixel sensors will have even more noise. At this point you might want to consider why to buy a multi-megapixel camera. At the low-end price class fewer pixels you get fewer noise you get is the rule of thumb. When shooting in good light Nytech's noise is typically insignificant. And if it is not you can remove it or make it less visible in no time using suitable software. The noise really becomes an issue when you use full resolution and the camera goes to highest sensitivity (ISO 400). The noise becomes very visible and gets even so high that photo editing software is unable to remove it. This camera has no firmware-based noise suppression. The longest exposure time when shooting in manual mode is 1/5 seconds and the shortest exposure time seen in photos shot in automatic mode is 1/4 seconds. These times are quite short and might be set so to prevent the noise from completely spoiling the photos. Longer exposure times would add even more noise.
The best cure for the noise is to add more light. This is not always possible. You may fight the noise also by reducing the sensitivity of the sensor (from ISO 400 to ISO 100) or to reduce the resolution (maybe set from 4 Mpixels down to 2 Mpixels). When shooting stationary objects with tripod I typically set the camera to ISO 100. That removes most of the noise. Of course a tripod becomes a must when doing this in low light conditions. It is a nice thing that in this camera the sensitivity can be manually set even when in fully automatic mode. Oh, just one more thing to mention on image quality: JPEG compression is quite strong even when set to mildest and this makes it hard to use photo editing software to correct colors or exposure errors. The JPEG artifacts of shadow areas come easily visible when boosting up the exposure.
The low light condition usability of the Nytech ND-4020 is degraded not only by the noise and the fact that the optics don't work well wide open. Also the autofocus comes an issue in low light..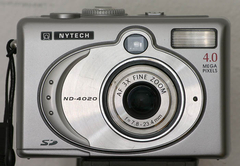 The automatic focus seems to stop focusing when the amount of light goes down. This gets worse when using the optical zoom's tele end. I think that Nytech's autofocus is not up to the standard set by today's other pocket size digicams. Autofocus seem to fail sometimes even when shooting in good light. You should be prepared to find at least one or two out-of-focus photos when browsing the card even if the light was good. I can't tell for sure why the autofocus fails in good lighting conditions but I can tell that it seems to happen easiest when the object has a low contrast. I assume that the autofocus problem is a firmware problem. The mechanics of the optics seem to work firmly. The low quality firmware could also explain partially why there is so much noise in the sensor. Many digicams have a software-based noise reduction but his camera has not.
Of course Nytech ND-4020 is not only one that has these kinds of problems. These kind of issues are very typical to cheap digicams. The autofocus problem could be easily cured by using a fixed focus. According to the original technical spec on Nytech's site the camera was said to have three fixed focus settings: 1 m, 3 m and infinity. I could not find these in menus and contacted the support. They explained that the site had incorrect information and they have now fixed the site. There is no fixed focus in this camera and so there is no cure for the autofocus problems.
Conclusions
Nytech ND-4020 digital still camera
is a decent camera compared to its low price

has 4 Mpixels, 3x optical zoom in 7 steps, digital zoom, video clips with voice, TV-connection

comes with three years warranty

seems to work as this kind of cheap low end pocket-size digicams work

is easy to carry around, is usable, can take good photos outdoors when there is enough light

has some drawbacks: longish delays, firmware crashes, rather high noise, autofocus problems in low light conditions, real time clock runs slow, file size is larger than necessary - these features might indicate a low quality firmware or they might exist due to slow processor which forces to keep the firmware very light
I have heard that Nytech's latest 5 and 6 megapixel models have a more mature firmware and have overcome many of the firmware-based drawbacks that exists on Nytech ND-4020.
Update history
2015-07-22: Updated the camera names list.

2013-03-30: A light update. Removed dead links. Repositioned images. Improved langauage. Fixed some typos.

2007-03-22: Added link to Nytech ND-5020 modified firmware.

2006-03-28: Updated battery and firmware information. Fixed some typos.

2006-01-04: Updated battery information, refined text, added comment that my Nytech has been sold.

2005-07-24: Added a link to Nytech ND-4020 photo gallery.

2005-07-18: Fixed a huge load of typos.

2005-07-17: Added info on the lens cap and inserted the product photos.

2005-07-06: Made the final changes and fixed some typos.

2005-07-02: Added details provided by Michel from the Netherlands.

2005-06-30: Created a separate page for Nytech and did a major rewrite.

2004-10-28: Updated Nytech ND-4020 description.

2004-09-08: Updated Nytech ND-4020 description based on information received from tech support. Grammar polished. Updated details.

2004-09-07: Page created and Nytech ND-4020 review translated from Finnish.
hobby
photography
review
nytech
praktica
vivitar
trust
magnex
konica
gateway
lidl
compact camera
2004
2005
2006